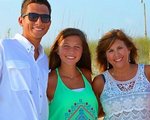 Stephanie Leach, Library Media Specialist and her two children, Jeremy and Abbey.
I am very excited to be the new Library Media Specialist at SMS. After 24 years in education, I still love school and interacting with my students. I hope to bring my enthusiasm for learning and love for my students to the library each day, and encourage them to be avid learners and creators of information, as well as, helping my colleagues as much as possible. Please join me using the "Remind App" for announcements concerning events pertaining to the SEMS Library.
Go to:
remind.com/join/mrsleac or rmd.at/mrsleac
Text- 81010
message @mrsleac
Upcoming Events:
The Scholastic Book Fair is coming to SEMS March 27-31, 2017! You can visit the SEMS Book Fair Page at http://www.scholastic.com/bf/southeastmiddleschool4 to preview or order on-line. On-line ordering will be available through April 6th.
*Cash or check will only be accepted on-site at the school fair.
SEMS Reading Fair will be Monday, October 30, 2017. Set up will be Sunday afternoon in the SEMS auditorium from 2-4. All 6th and 7th graders will be required to complete a project for a grade from their Language Arts teacher. More information will be sent home at a later date.
Box Tops: We collect Box Tops to help provide student incentives for PBIS and AR. Each Box Top is worth a dime for the school. Please send those in at any time. Also, you may download the free BOX TOP APP, select Southeast Middle School in Meridian, MS, and scan any receipt for items that have Box Tops and it will deposit them into our account digitally.